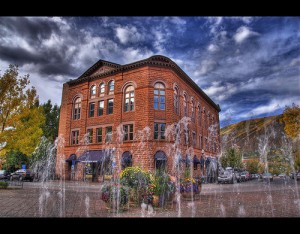 Past-Present, Off the Beaten Path & DarkSide Tours meet at the Wheeler Opera House 320 E. Hyman Avenue.
The Wheeler Opera House is a historic 3 story sandstone building on the corner of Hyman Ave. and Mill St.
View Map
Aspen's Past to Present and Aspen's Darkside are casual walks through downtown Aspen.
The Walk w/ the Dead Cemetery Tour
meets at the Ute Cemetery on Ute Ave. across from the Ute Trail near the Aspen Club View Map
Look for the small brick entrance monument along the bike path.